Changelog
---
Mär 24, 2021
iOS Native Beta
General: We added the option to use the App as a guest.
General: We fixed some Bugs with the DarkMode on iOS.
General: We added a filter for audiobooks/audiodramas.
Library: We added a list for titles marked as "already listenend".
Library: We transformed the profile button to a list item (experimental).
Library: Deleting your Account shouldn't be a problem anymore
Library: "Continue Listening" got a "More" Button
Library: You can edit titles in your playlists now.
Titels: Titles within a serie are showing a link to the serie now.
Other: We fixed a Bug where AirPods weren't pausing.
Other: We fixed some more little Bugs and made some additional adjustments.
---
Jan 25, 2021
iOS Native Beta
Fixed:
Discover: Messages will be show in the correct layout.
Forgot Password: The input field will now reset after sending a password forgotten request.
---
Jan 22, 2021
iOS Native Beta
Fixed:
Login: Again, fixed a bug wich could prevent users from login.
Login: The Facebook SDK was removed from the App. User are able to migrate if they will get a new password.
Discover: Bestseller show placements now.
---
Jan 18, 2021
iOS Native Beta
Fixed:
Login: Fixed a bug wich could prevent users from login.
Discover: Optional message will be shown now.
Title Details: Added the Publisher.
---
Jan 12, 2021
iOS Native Beta
Fixed:
General: The Spotify Configuration has changed. Please Re-Authorize your account.
General: The color scheme has been optimized, especially in dark mode.
General: The settings for content languages ​​are now implemented correctly.
General: The setting to show/hide explicit content now works.
Reviews: Click on an abbreviated review to open it.
Titel Details: The 3 point menu now works.
---
Jan 11, 2021
iOS Native Beta
Fixed:
General: The Re-Authorization of Spitify won't show up any longer.
Audiobook of the Week: It is now full width.
Profile: Changes to the language settings will be saved proberly now.
Titel Details: Click area of the back button is now bigger.
Titel Details: Pagination for Reviews is now available.
Titel Details: Reviews will be shown correctly now.
---
Jan 8, 2021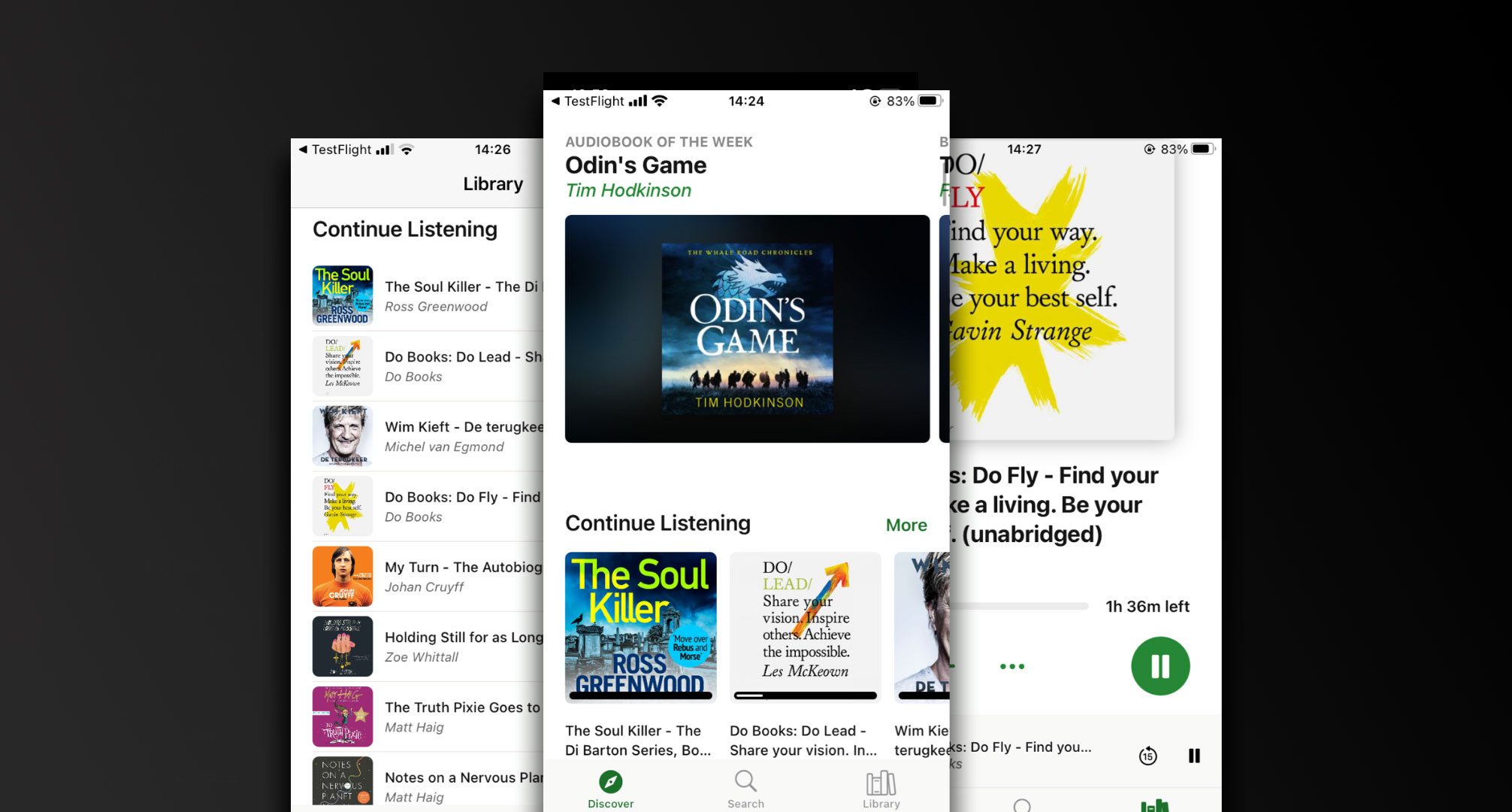 iOS Native Beta
Spooks has become increasingly popular since its launch in 2014. Therefore, we have decided to give the platform more substance. Firstly, we have recently made the progression from a hybrid app to native. So Spooks is now optimised for all devices, which gives us more opportunities for to develop new features.
During this process we also made many improvements to the app; the interface and user-experience have become much more straightforward. We've said goodbye to some old things and new, exciting features have taken their place. Meanwhile, it was important that existing and popular features continue to work smoothly.
What has changed:
The in-app Spotify player has been completely revised.
The library, settings and profile have been entirely updated.
The user reviews are now based on stars, not thumbs.
The search function now makes finding audiobooks easier.
The book description is first shown as a short version.
Authors and narrators are now displayed more compactly.
The 'Audiobook of the Week' has moved to the 'Discovery' page.
Several titles are now displayed in list view.
The thumbs in the detail view have been replaced by hearts.
Tickets have been replaced by emails.
What is new:
The Spotify Player now works across all systems (CarPlay, AirPlay, Apple Watch, etc.)
The sleep timer from iOS now communicates with Spooks.
The iPad version adapts the iPhone design.
There is now a 'Continue listening' playlist.
You can now select more than one content language and prioritise them.
Users are now required to create a user account or to sign in.
Users can now choose an avatar and a username.
The search has the new features 'Recommended' and 'Discover'.
You'd like to participate in the beta testing and play a part in Spook's development? Excellent! Just click this Link on your iOS device and download the beta version via Apple Testflight. This way you can explore everything and give us valuable feedback. Just come back to this page to find out what changes each update brings.